JOB VACANCY
see our job offer :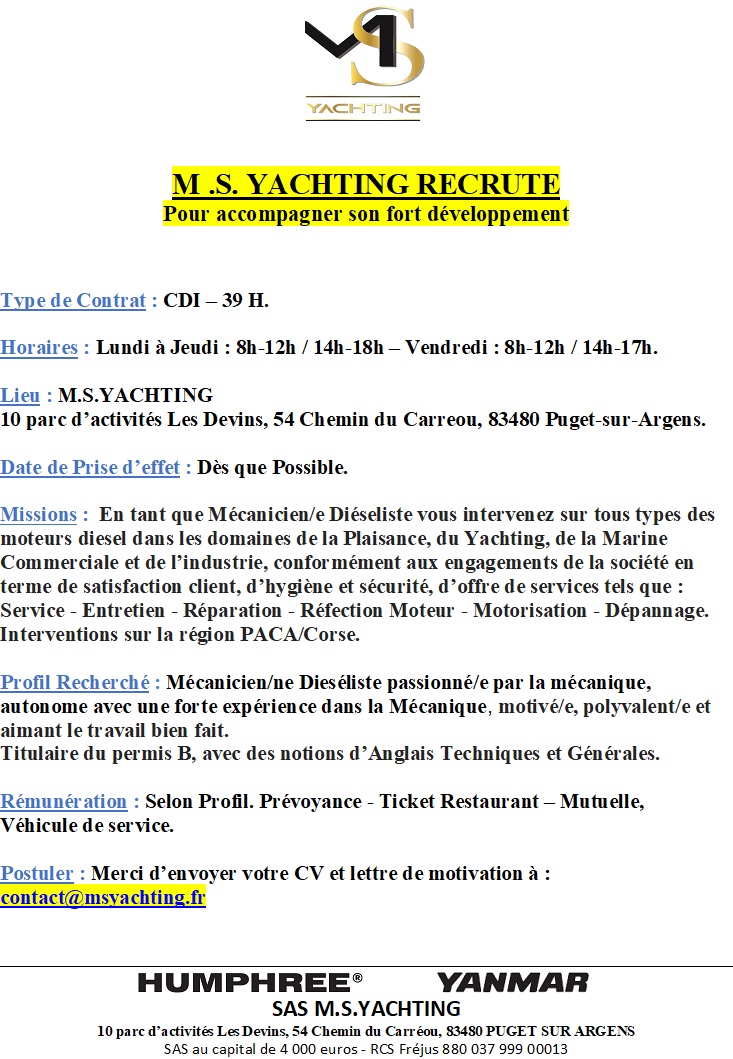 NEW DIRECTION
In May 2023, MS YACHTING acquired MOTOR HEAD SERVICES, a marine diesel specialist. 
The complementary nature of our teams and skills means that we can now offer a Premium service to the Commercial Marine, Yachting and Industrial sectors.
* Distributors: HUMPHREE and SCANIA Marine for the Mediterranean, 
* Agents:
YANMAR Marine, MAN, SOLE DIESEL, F.P.T, WHISPERPOWER, KONRAD, MARSHALL, BWA.
To contact our various departments:
Sales / Administration Department:
- Mickaël PUJOL +(33) 06.66.26.88.89 - mickael.pujol@msyachting.fr
- Stéphane VANUXEEM +(33) 06.75.98.36.82
- Corinne DELAYE +(33) 09.67.13.47.66 - corinne.delaye@motorheadservices.fr
Technical Department:
- Simon DUBOIS +(33) 06.47.60.09.79 - simon.dubois@msyachting.fr 
- Stéphane VANUXEEM +(33) 06.75.98.36.82 - stephane.vanuxeem@motorheadservices.fr 
We would like to thank you for your loyalty over the years, and would be delighted to meet you at our offices at :
54 Chemin du Carréou, Parc d'activités Les Devins, à Puget S/Argens.